DATOS DE JUEGO


Sistema: GURPS
Época: la de Cyberpunk (S XXI)
Tipo: Manual / Ambientación


DATOS DE DIGITALIZACIÓN


Descarga: Desde Megaupload y Mediafire.
Formato: PDF
Calidad: Escaneo (Buena calidad)
Tamaño: 4,70MB


DATOS DE PUBLICACIÓN


Autor(es): Chris W. McCubbin
Editorial: Steve Jackson Games
Referencia: SJG 6070
Fecha: 1995 (2ª impresión 2001)
ISBN: 1556342888
Páginas: 128
Formato: Tapa blanda, portada color, ByN

TEXTO POSTERIOR


The Unspeakable Truth
Life in One-and-Twenty just got a lot more complicated. If you're smart and fast, you might survive, for a little while. Lucky? Nobody's lucky. Not in a world like this.
GURPS CthulhuPunk adds a horrifying new dimension to the chrome-and-sweat battleground of GURPS Cyberworld. As if intelligent computers and razor-clawed cyborgs weren't enough . . . Great Cthulhu is coming.
Produced by permission of Chaosium, Inc., the chilling world of GURPS CthulhuPunk combines cyberpunk with the classic Cthulhu Mythos. In a corrupt and decaying world, the Mythos spawns horrors beyond imagining - and the technology of the 21st century offers new tools to mankind in its fight for life . . . and sanity.
Within these pages, discover: GURPS statistics for the major creatures, spells, and books of Lovecraft's Cthulhu Mythos. Cthulhoid magic . . . and new cyberwear with the taint of the Elder Gods.
The GURPS Cyberworld background, as seen through the lens of the Mythos. Why has the weather gotten so deadly? Why has the Bamboo Curtain closed again? And just what really happened to everyone in Australia?
Rules for converting Call of Cthulhu characters and creatures to GURPS - use all the great books from Chaosium.
Plus adventure seeds, to help launch a CthulhuPunk campaign!
INFORMACIÓN ADICIONAL
Comentario:
Un crossover entre Cyberpunk y La Llamada de Cthulhu, para el sistema GURPS. En mi opinión, un tanto decepcionante. Además no se basta por sí sólo para jugar y al final te tienes que ayudar de los básicos de GURPS y La Llamada de Cthulhu.
Se han hecho dos impresiones de este volumen (una es la que se detalla arriba, la otra salió en 2001); básicamente, la única diferencia entre ellas es la portada; ésta es la portada de la 2ª impresión: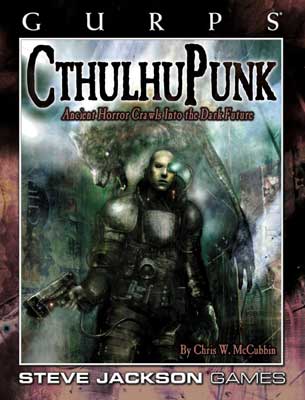 Traducción:
Existe una traducción oficial al Español de este suplemento.
Más información